---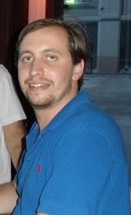 Kevin J. Spring is a postdoctoral research fellow in the Department of Integrative Biology and Pharmacology at the University of Texas Medical School at Houston. His work has contributed to the understanding of the lipid and protein composition of cell membranes and the roles it plays in regulating cellular activity. He is active in the synthetic biology community with a role in cell-free and membrane compartmentalized synthetic systems. His postdoctoral scientific training has extended past his primary position and included an intense two week long training in synthetic biology at the Cold Spring Harbor Laboratory in New York.
Prior to joining the University of Texas Medical School at Houston, Kevin obtained a Ph.D. from the University of Houston Department of Biology and Biochemistry where he developed studied stochastic changes in gene copy numbers and the role natural selection plays in maintaining gene ratios. His work at the University of Houston also included investigation of the effectiveness of a parasitic organism on reducing mosquito larva populations. His work was funded from grant applications submitted by Kevin to the Environmental Institute of Houston, the Houston Coastal Center, and Sigma-Xi. He was also awarded the UH's Excellence in Research Award 4 years in a row. During his graduate school education, Kevin, supported himself chiefly as a teaching assistant, where he taught over 600 undergraduate students laboratory, microbiology, and scientific writing techniques.
Kevin received a B.S. in biology from the University of Houston-Downtown where he had the opportunity to experience and interact with a diverse student population. While in school, he spent his spare time organizing graduate and undergraduate students. He served as the Sports Coordinator and Treasurer of the BioScience Graduate Society at the University of Houston. He also helped organize the Students for Personal Safety, a campus wide advocacy and informational organization that taught self-defense courses to students as well as lobby the campus administration to provide a safer campus environment. He also organized and raised funds for a solely graduate student lead ecology and molecular evolution seminar series. He was the Vice President and Treasurer of the Environmental Club at University of Houston-Downtown, which involved the planning to start plastic bottle recycling on campus.
While in college, Kevin supported himself working the night shift as a mail clerk at the law firm Vinson & Elkins and as a photograph laboratory technician. In 2010 he started a small company that hosted, designed and maintained websites. Kevin was employed throughout his high school career as a mail clerk and computer maintenance at a small, locally owned insurance company.
Kevin is a lifelong learner and continues to advance his knowledge deeper in biology and also in law, programming, computer networking, and design. He loves meeting new people with diverse interests, opinions, and cultures. Please feel free to contact him to start a conversation.
---
EDUCATION
Doctor of Philosophy
2012
University of Houston Department of Biology and Biochemistry
Bachelor of Science
2006
University of Houston-Downtown Department of Natural Science
Major/Minor: Biology/Chemistry
---
EXPERIENCE
Postdoctoral Research Fellow
2013 - Current
University of Texas Medical School at Houston Department of Integrative Biology and Pharmacology
Autonomous investigation of scientific literature for unresolved scientific questions. Develop hypotheses and design experiments. Direct and teach subordinates. Produce and analyze quantitative data. Publish progress reports and manuscripts for publications. Peer­review other scientist's manuscripts for journals. Present research findings to faculty and at scientific conferences. Write research proposals to grant funding agencies. Discuss and collaborate with other researchers on joint research projects.
Teaching Assistant
2006-2012
University of Houston Office of Laboratory Instruction
Liaison with program coordinator and other instructors to set course schedule and grading standards. Run trial experiments before class to determine efficient and effective use of time and materials. Maintain and repair equipment as needed. Record attendance, grades, and participation for students final course grade. Research literature, synthesize information, and prepare course instruction. Give topic lectures and instruct students in laboratory techniques. Meet with students individually for mentoring and tutoring. Give students writing advise on their personal laboratory experiments. Supervise all health and safety procedures.
Research Assistant
2008-2010
University of Houston Department of Biology and Biochemistry
Write research proposals on interests in genetics and cell biology and submit to grant funding agencies. Conduct preliminary research to determine the best efficient use of time and supplies. Maintain laboratory equipment and make repairs as needed. Collect data from analytical instruments and enter the data into database spreadsheets. Analyze the data using statistical applications. Prepare and give oral presentations to scientific societies and to colleagues. Write final report for grant funding agency and for publication in peer­review journals.
Research Assistant
2005-2006
University of Houston-Downtown Department of Natural Sciences
Document Service Representative
2000-2004
---